Download & Share your Certificate
After you have earned your Tovuti Certified Administrator Certificate, you can download your certification to share on Social Media and other platforms.
How To
Step 1:
Download your certification image by going to your My Learner Journey. If you need it on your phone, you can email it to yourself and open it on your cell phone.
Step 2:
Now that you have your certificate, head to Linked-In/Instagram/Facebook.
Hitting a writing block? We've got you covered. Simply copy and paste the below verbiage.

Very excited to share that I am now a certified Tovuti LMS Administrator! @tovutilms #LMS #certification
Step 3:
Create a new post in Linkedin/Instagram/Facebook. Copy and paste the above announcement verbiage, then attach the certification image directly on the post.
Be sure TovutiLMS is tagged! We want to give you kudos and support you on your accomplishments!
Step 4:
For Linked-In users, there's a License or Certification section about half way down on your profile to attach your certificate. This allows anyone who will come to your profile in the future to see that you are an LMS champion!
After clicking on the plus in the right hand corner of this section, write in the Name of your new certification as "Tovuti Certified Instance Administrator".

The Issuing Organization is "Tovuti LMS".

Make sure to put in the Issue Date and Expiration Date so it shows the 1 year length of this certification.

Insert your Credential ID, which can be found on the bottom right hand corner of your certificate.

No need to worry about the Credential URL section.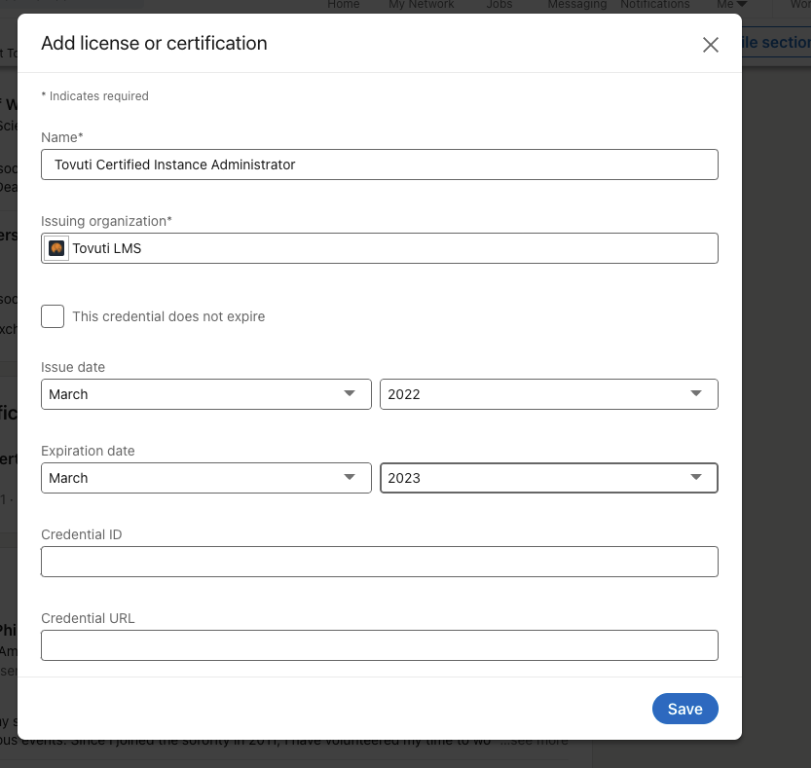 Step 5:
Watch as the praise comes in. Take a moment to sit back and be proud of yourself! Congratulations!